Residential Boilers - Gas Boilers

Series PSCII™ Boiler
For homes where a chimney is inadequate or unavailable, the direct-vent Series PSCII™ is ideal! The fully packaged and ready-to-install sealed combustion boiler is available for both natural and LP gas and backed by the dependable Peerless non-prorated lifetime warranty on the heat exchanger.
---
Product Details:
Type: Residential
Construction: Cast Iron
Fuel: Gas-Fired (Natural or LP)
Input: 65 to 150 MBH
Output: 56 to 128 MBH
Venting: Sealed Combustion, Direct Vent
Trim: Water
Ignition: Spark Pilot
Series PSC II™
Water Content, gal
Model Number
Input, MBH
Heating Capacity3, MBH
Net Ratings Water1,2, MBH
 AFUE3, %
PSC II-03
65
56
48
86.0
4.72
PSC II-04
90
77
67
85.0
6.00
PSC II-05
120
102
89
85.0
7.28
PSC II-06
150
128
111
85.1
8.56
Net water ratings based on an allowance of 1.15.
Consult factory before selecting a boiler for installations having unusual piping and pickup requirements, such as intermittent system operation, extensive piping systems, etc.
Heating Capacity and Annual Fuel Utilization Efficiency (AFUE) ratings are based on U.S. Government test.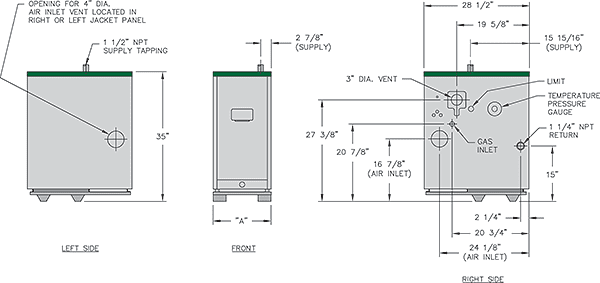 Series PSCII™ Boiler Dimensions
Boiler Model Number
Jacket Depth "A"
Jacket Width "B"
Jacket Height "C"
PSCII-03
PSCII-04
PSCII-05
PSCII-06
28-1/2″
12-1/2″
15-7/8″
19-1/4″
22-5/8″
35″